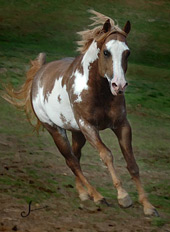 The motto here has long been "Quietly Producing Quality."  Each and every year, a carefully chosen group of mares is crossed to produce that magic combination of attitude, conformation, and ability.  Year after year, Shallowbrook babies are pretty headed, long necked, good moving athletes who want to please and whose personalities endear them to all.  So many of our customers become repeat customers and friends simply because they are so pleased with our babies.  Make an appointment to meet this year's crop today!
A Pleasure Sensation, fondly known as "Spot," is our 2001 sorrel overo stallion.  In 2004, Spot finished his Open Superior in Western Pleasure and earned 18 Novice and Amateur Western Pleasure points - all with very limited showing.  He has the perfect mix of movement, conformation, and personality.  His first foals arrived in 2006 and they were everything we'd hoped for!   In 2008 he became a World Show Top 10 sire when that first crop hit the pen as 2 year olds!

~CONGRATULATIONS to Huntin the Sensation and Amy Stonehocker. Amy and "Remington" were Longe Line futurity champions at the 2011 High Plains Paint Horse Club Paint O Rama!
~CONGRATULATIONS to Christine Höltschi and JDG Bet Your Asset! Christine and "Lacey" were Reserve at the 2011 European Pleasure Celebration 2YO Longeline in Germany. They also won the NonPro NSBA Longe Line and were 3rd in the Open Longe Line at the same event.
~CONGRATULATIONS to Trevor Rhea and A Flashy Sensation on completing their Youth APHA Championship on April 23, 2011! We think it's SUPERB that "Fourteen" was able to help Trevor accomplish this goal so early in his 4 year old year and during only their second year showing together as a team!